COAST Drink – Social Media Content Marketing
(Videos and 3d Animated GIF)

Video Testimonial from Chris, CEO, Coast Drink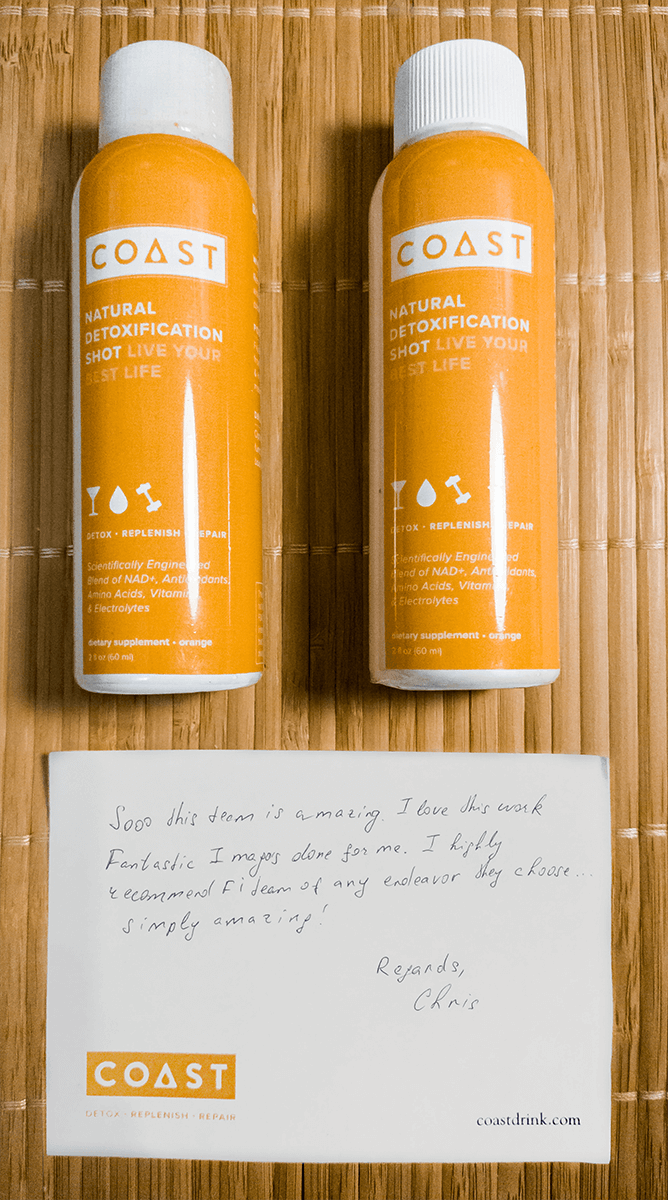 Animated GIFs & Video Production for Skin Virtue
Client: COAST Drink
Project: COAST Drink needed videos, GIFs and photos to educate consumers and increase sales.

About client:
COAST Drink was founded and developed in the USA. It's a unique brand, with the most powerful detoxification supplements, committed to developing products with NAD+ that optimize human health and performance, daily, post workout or while drinking.
The company's revolutionary new products help to improve their clients' lives through sustainable and high-quality ingredients.
If ever there was a detoxification supplement with NAD+ that breaks all the rules and achieves 100% optimized human health and performance, this is it. That's why, NAD+ plays the main role within their content marketing strategy.
Problem:
COAST Drink had several challenges with their digital marketing efforts. The detoxification supplements industry is crowded with many different brands and products, meaning COAST Drink's visual messaging had to work hard to stand out and increase product and brand awareness.
Finally, as a supplement, COAST Drink had regulatory issues in what claims can be made in advertising and social media messages. It was key that we and COAST Drink worked together to find the right language that communicates and persuades effectively without making specific medical claims.
Solution:
COAST Drink has a reputation that focuses on sustainable and high-quality ingredients. Our videos were targeted towards these.
The videos, animated GIFs and photos were crafted to satisfy a number of marketing objectives.
Project features:
We created videos with 3D elements such as 3D bottles of the Coast Drink product and animated GIF banners for their social media and ad campaigns. We used 3D bottles in the video, so that the viewing audiences could remember the form and color of the product, and as results of these methods, they got more engagement in social media accounts.
For each campaign for social media ads, we created different color styles for each video, so the team from COAST Drink can test them in A/B testing to find the best ones that work for them.
Contact Us
Thank you for your interest. Please complete the form below and a representative will respond as soon as possible. If you'd prefer to speak with somebody directly, please call our sales team at Skype - fantasticimago