PERLA DE PLATA DE MALLORCA
"FAIRY TALE"
CASE STUDY

Branding and Advertising Agency
FANTASTIC IMAGO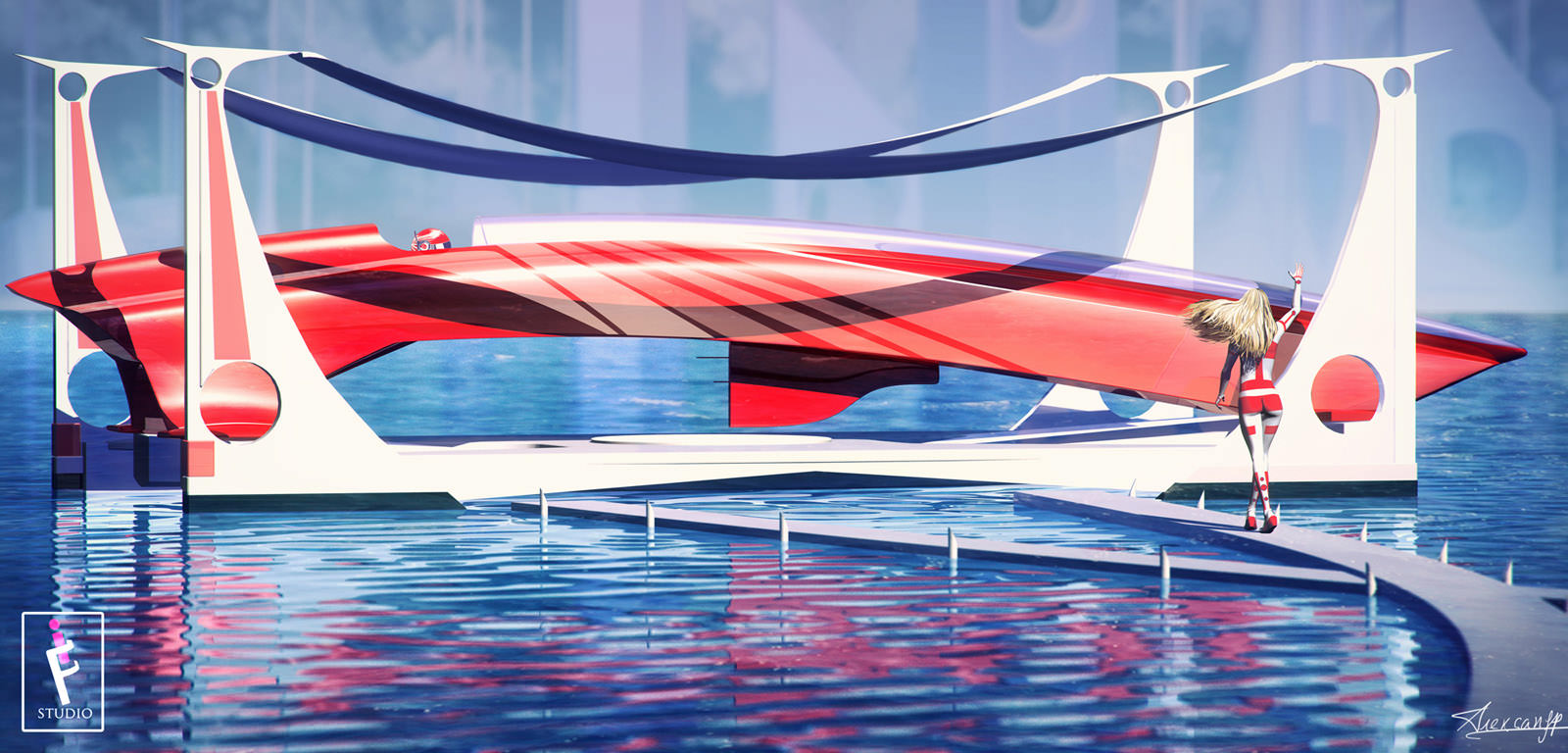 At Fantastic Imago, we are brand builders — experts in brand strategy and brand identity. Since 2008, we help our clients launch new brands and products, rejuvenate existing ones, and solve their market needs and challenges. Regardless of your goals, we design captivating and valuable brand experiences.
Fantastic Imago is a worldwide company that focuses on brand development and delivering professional video filming and the advertising creation services. Our company, Fantastic Imago, can help to raise brand and marketing to the next level:
Consultation on brand development and strategy.
Designing webpages, business cards and corporate identity.
We create unique stories that help to create an emotional connection with your brand audience.
Fantastic Imago Branding and Advertising Agency provides a unique approach for each business and creates an emotional connection between the brand and its audience with such techniques as:
Creating a unique story for your brand and product, which is expressed in the form of advertising, video clip, ads, designing brand identity and presentations.
Constant communication of your brand with fans – consumers.
Our company has worked with many different companies and brands. We work from market leaders to small businesses. Our brand service and visual products help them to promote and increase their revenue.
In addition, they constantly receive the latest news about our case studies, reports, marketing tips and, most importantly, our experience that we find and collect from around the world.

FI HISTORY
FI started creating extraordinary works in 2007.
FI went to the Global Market in 2015.
FI MISSION
Fantastic Imago are building brands, products, video ads, animated explainer videos, designing a brand identity, results-based marketing and websites for anyone looking for an increased conversion rate on leads, appointments, and new clients from websites, trade shows and stores!
Starting today, we will boost your client base and your profits!

THE PROJECT
PERLA DE PLATA DE MALLORCA
«FAIRY TALE»

As part of the launch of Perla De Plata De Mallorca's new 2015 collection of silver and pearl rings and other luxury accessories for young ladies in Spain, Fantastic Imago has created a video advertisement with actors in the style of a mystical fairy tale.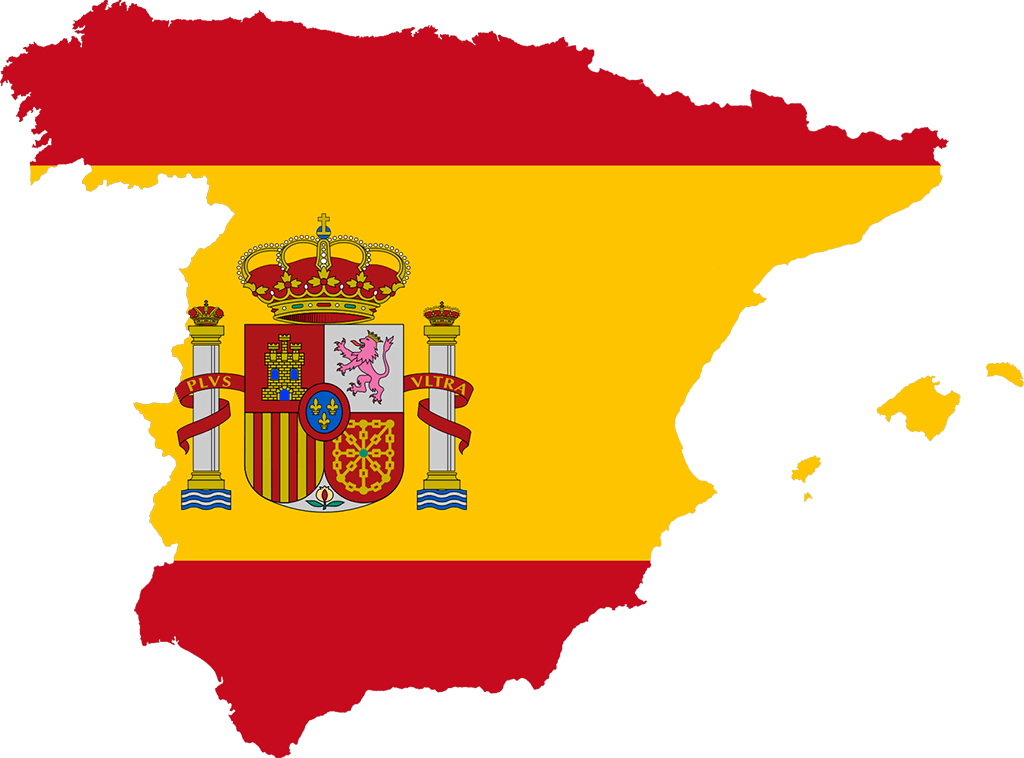 The target audience is tourists who stay in Spanish hotels. There were more than 63 million tourists that visited Spain in 2014. International tourists spent about 8.4 billion euro total in 2013. The average holiday spending per tourists was 1,067 euro per tourists with an average stay of 11 nights. This tells us the average tourist spent about 97 euro per day.
More than 63 million tourists entered Spain in 2014
Spend per tourist of 1,067 euro
Average daily spend of 97 euro
Bringing a magical story and never-to-be-forgotten experience to screens in hotels throughout cities in Spain.
The mission placed on our shoulder was to create eye-catching effects and sparks of desire to dress and buy Perla De Plata De Mallorca's new jewelries in Spanish hotels.
We also need to show how the easy-to-use screw system works, which most of Perla De Plata De Mallorca's new collection of jewelry have.
BENEFITS OF THE SCREW SYSTEM
FRIENDLY USE
Very simple and easy to change different pearls like black, white, pink etc. into the silver base.
MULTI USE
Screw system installed on all types of jewelry like earrings, brooches, pendants and rings.
FAST
Takes 20 seconds less to change one pearl to another.
DOZEN OF COLORS
You can have dozens of different colors of pearls with the screw system inside and you can install them into one or a few sliver bases.
WHAT IS THE SCREW SYSTEM?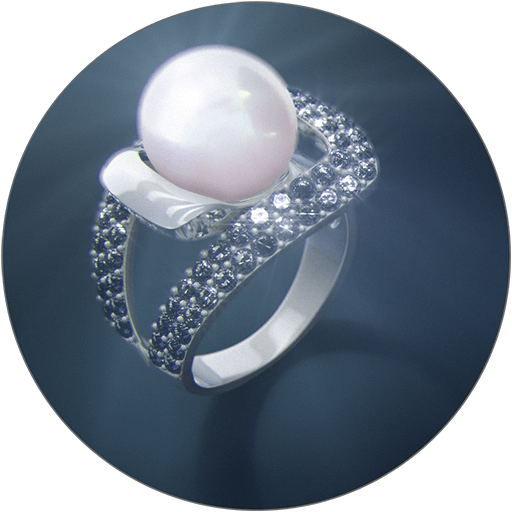 What is the screw system for jewelry that Perla De Plata De Mallorca implemented in his new collection and what benefits will buyers get from it?
The principle was taken from the classic Archimedean screw. It is a simple screw 3 mm in length and the 1.5 mm in diameter. This screw is able to attach different pearls with same screw inside into a silver base in a few seconds.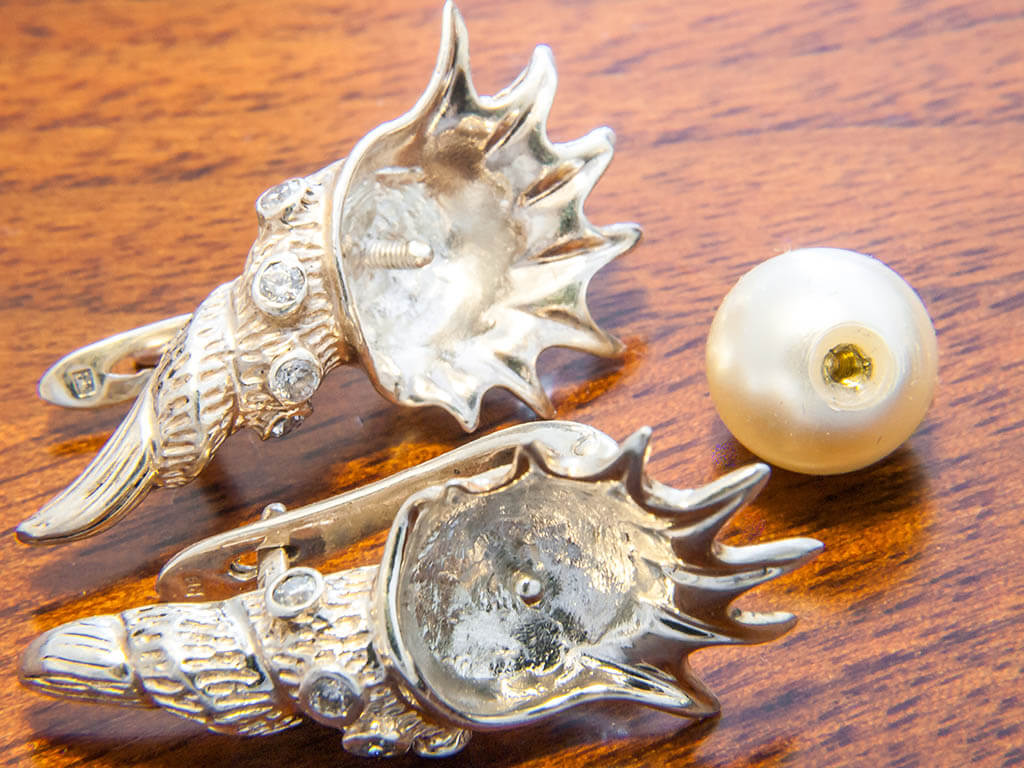 Silver earrings without white pearls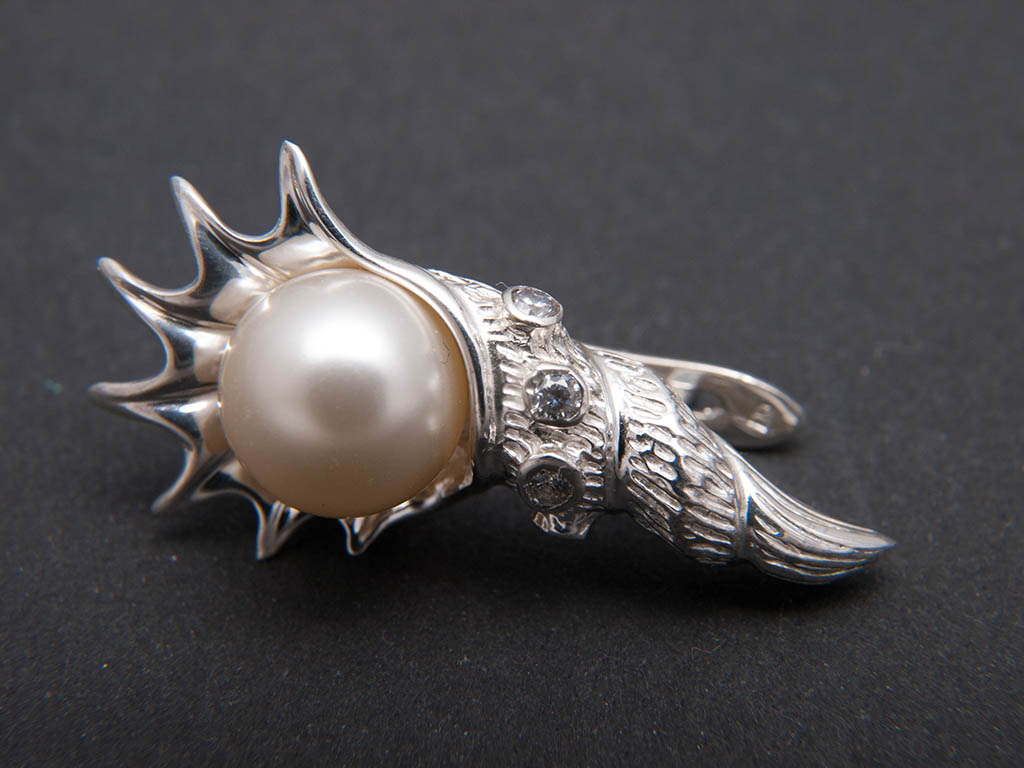 Silver ring without white pearl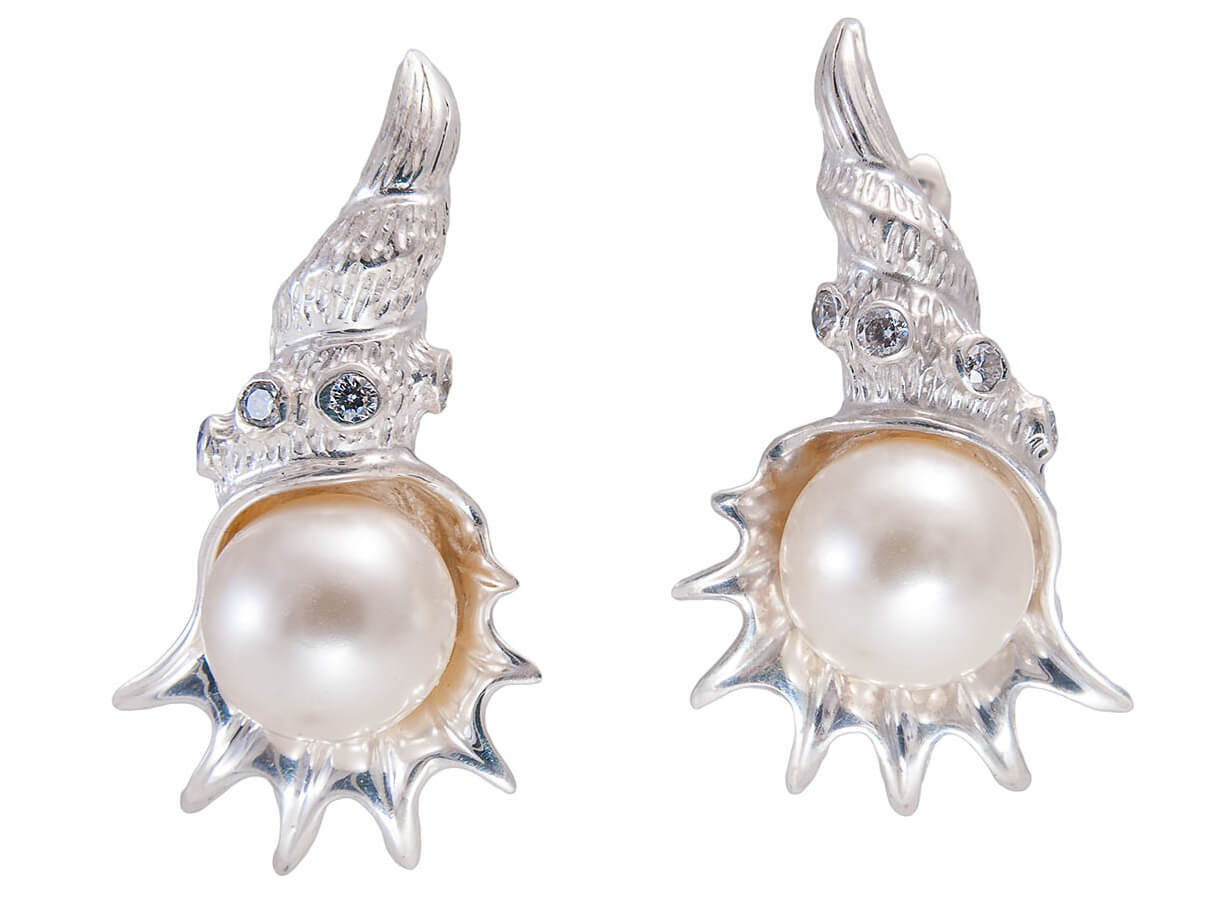 Silver earrings with white pearls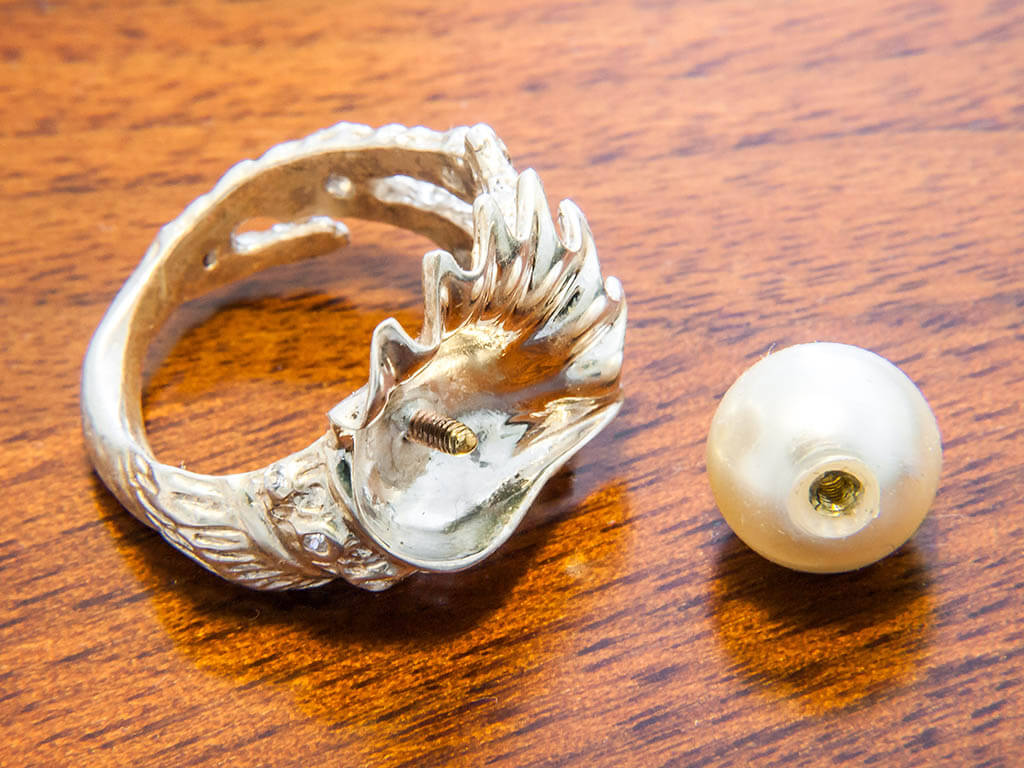 What three ideas would we like to implement in the video to create a fairy tale for Perla De Plata De Mallorca.
The main concept in the video is to show how quick and easy it is to change one color of pearls into another with the screw system.


We decided the third idea would be the best for a TV commercial with the addition of showing a ring. The other ideas have too many components that could confuse the viewer.
The second ideas is perfect, but would be too time consuming to perfect the underwater shooting and complex post-production.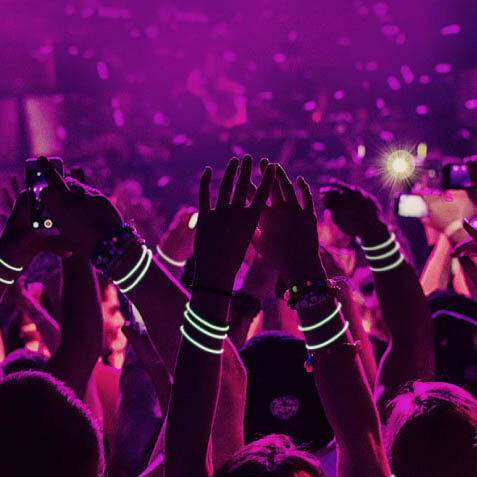 FIRST IDEA
First Idea is to show a young woman hurrying to get to two events. She is wearing different dresses with different colors of pearls and changing them in just a few seconds while she is walking. She looks fantastic in her dresses with jewelry from Perla De Plata De Mallorca.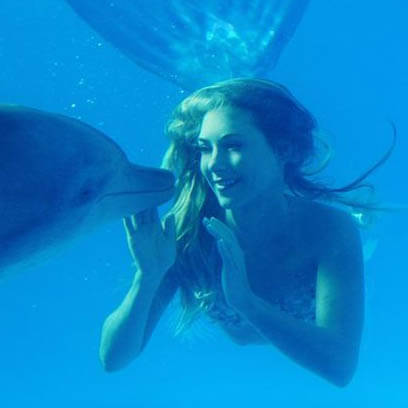 SECOND IDEA
All shots take place in the sea or a pond. She is swimming underwater like a mermaid through with pearls falling from above and in the end; we can see that she is wearing jewelry from Perla De Plata De Mallorca.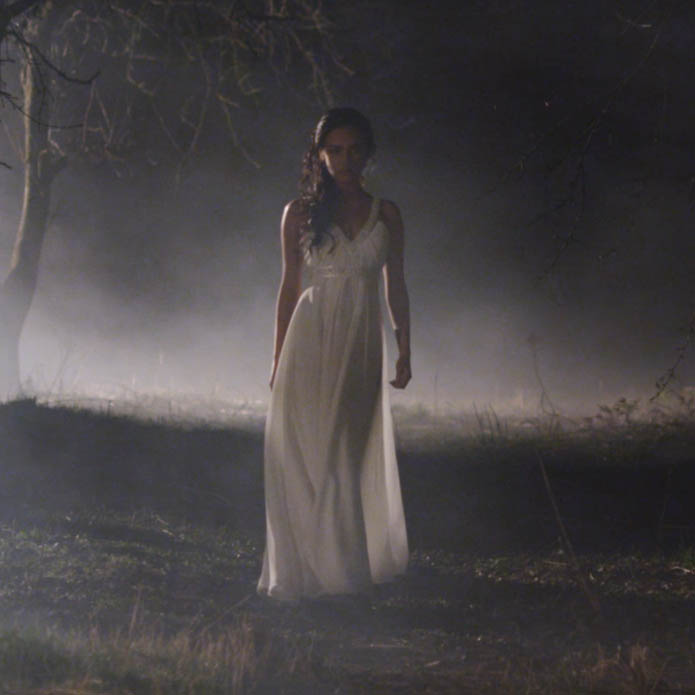 THIRD IDEA
We create a mystical atmosphere in magical environment. The actress is walking through an elegant architectural style in a mystical forest. In these shots, we show a young woman that wants to look outstanding in any situation; she wears different dresses and can change white pearls into black in a few seconds. The jewelery can go with any dress the young lady chooses.


After collaboration with the marketing office of Perla De Plata De Mallorca, we created concepts how to combine a fashionable video with a 3D presentation about the screw system in the jewelry.
#1 - INTRO
3D Intro- Branded Logo of Perla De Plata De Mallorca.
#2 - VIDEO
Video with an actress in a white dress with black pearl jewelry.
#3 - BRANDED SHOT
2D branded shot with the name of Perla De Plata De Mallorca.
#4 - PRESENTATION
A video where we show how the screw system works. The black pearl changes to white in a few seconds.
#5 - VIDEO
Video with an actress in the evening, dressed in white with white pearls.
#6 - BRANDED SHOT
2D branded shot with the name of Perla De Plata De Mallorca.
#7 - TURNAROUND VIDEO
Final shot with turnaround video of a white pearl in the ring.
#8 - END
2D branded logo of Perla De Plata De Mallorca.




DEVELOPING THE STORYBOARD AND SCRIPT
Once we have approved the third idea, we create the storyboard that it will be our visual script for shooting.
LOCATIONS
We have narrowed it down to 6 locations from 50. We found 2 locations for shooting at an exhibition center in Kyiv with the huge columns and apple orchards. It's the best place to create mystical atmosphere for the video.
THE CASTING
We invited the local casting agency in Kyiv to help us to choose the actor for our project. We shot six small videos with different actors on location. We want to see how they each look and feel in this place. When we have finished, we chose one ideal actor that could present the exact mood we needed in the video.


10 HOURS SHOOTING
Before the shoot, we found two dresses: black and white for different sets of pearls. They add some an accent for the mystical image of video.
THE TECHNOLOGY
ON THIS PROJECT WE USED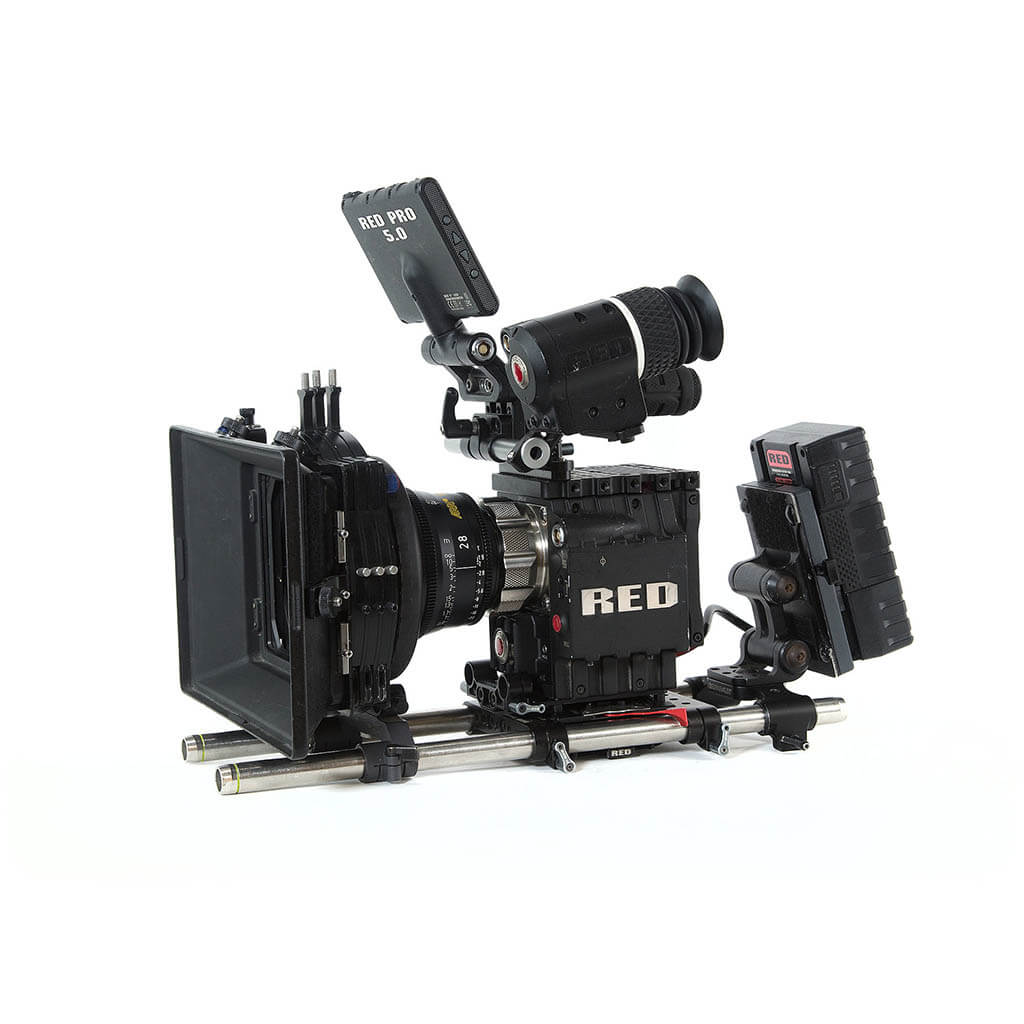 Camera:
Red Epic Mysterium-X, we shoot 100 frames per second. Lens: Cooke mini S4/I Primes Lens T2.8 from 25 mm up to 135 mm.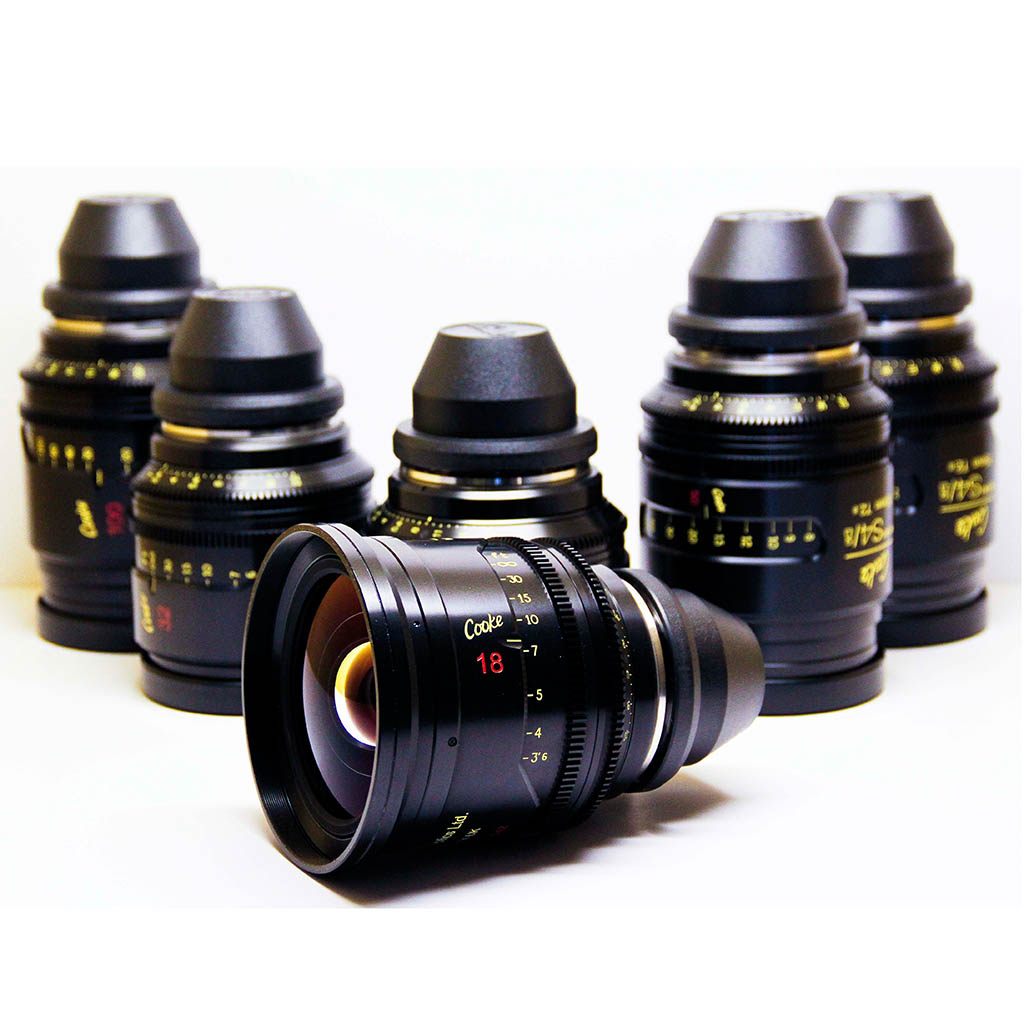 Lens:
Cooke mini S4/I Primes Lens T2.8 from 25 mm up to 135 mm.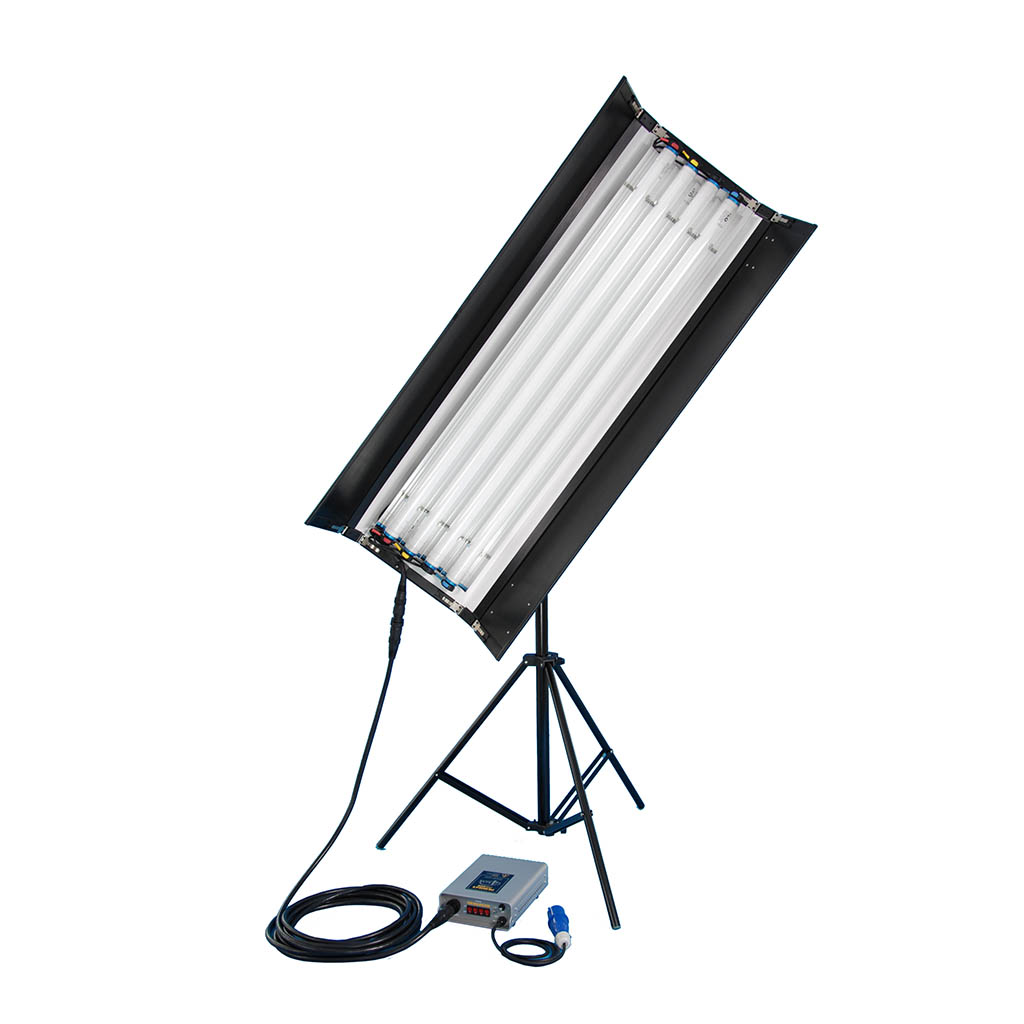 Light:
8 x kino flo 4×4 ft,
2 x Arri lights with 2kWt,
2 x Arri lights with 5kWt.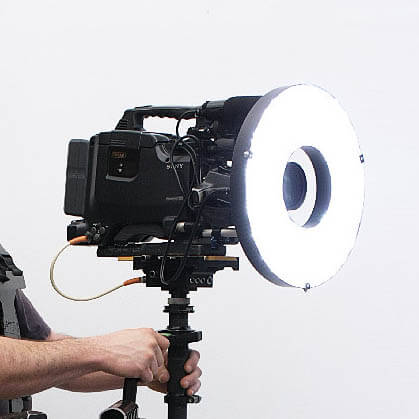 Ring LED light for the camera
Dimmable light with 5500k.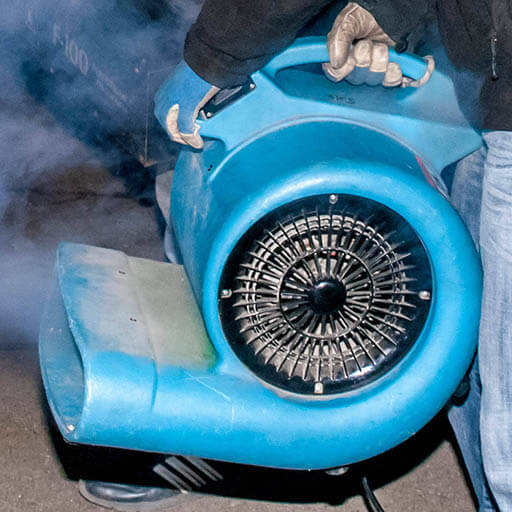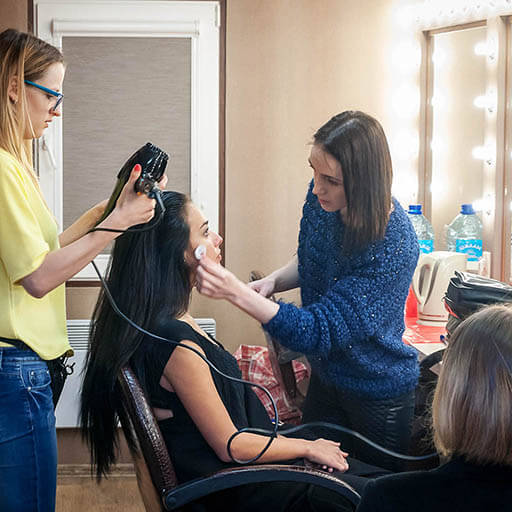 Makeup wagon
20 square meters.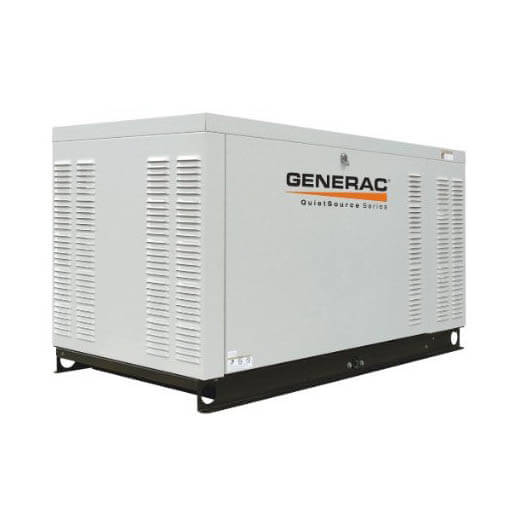 Power generator
Up to 40kWt.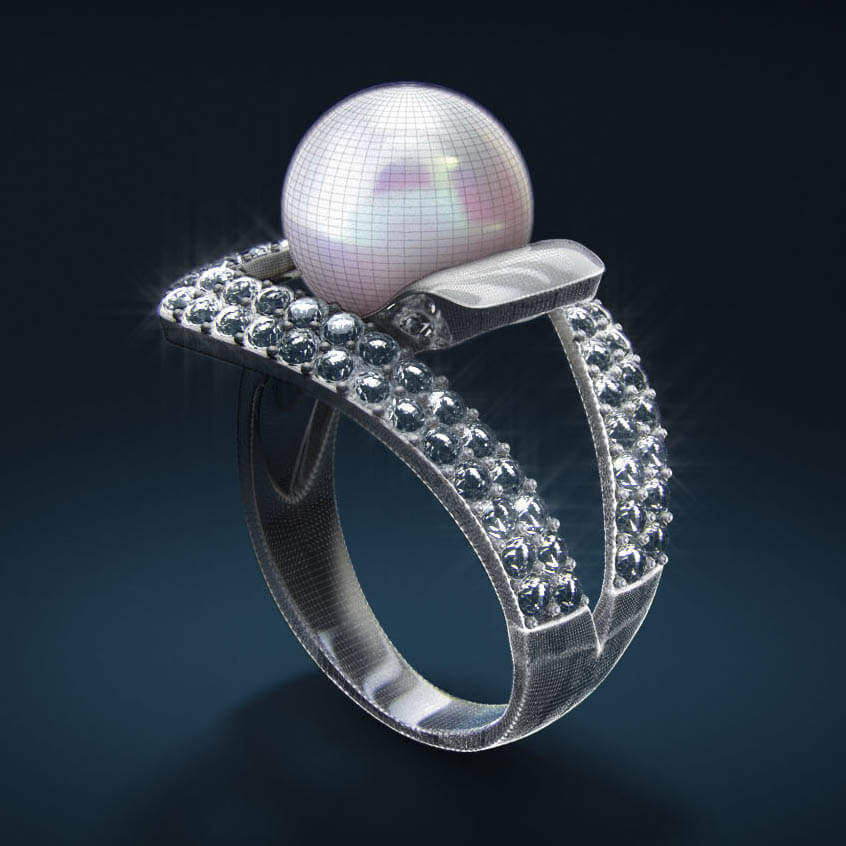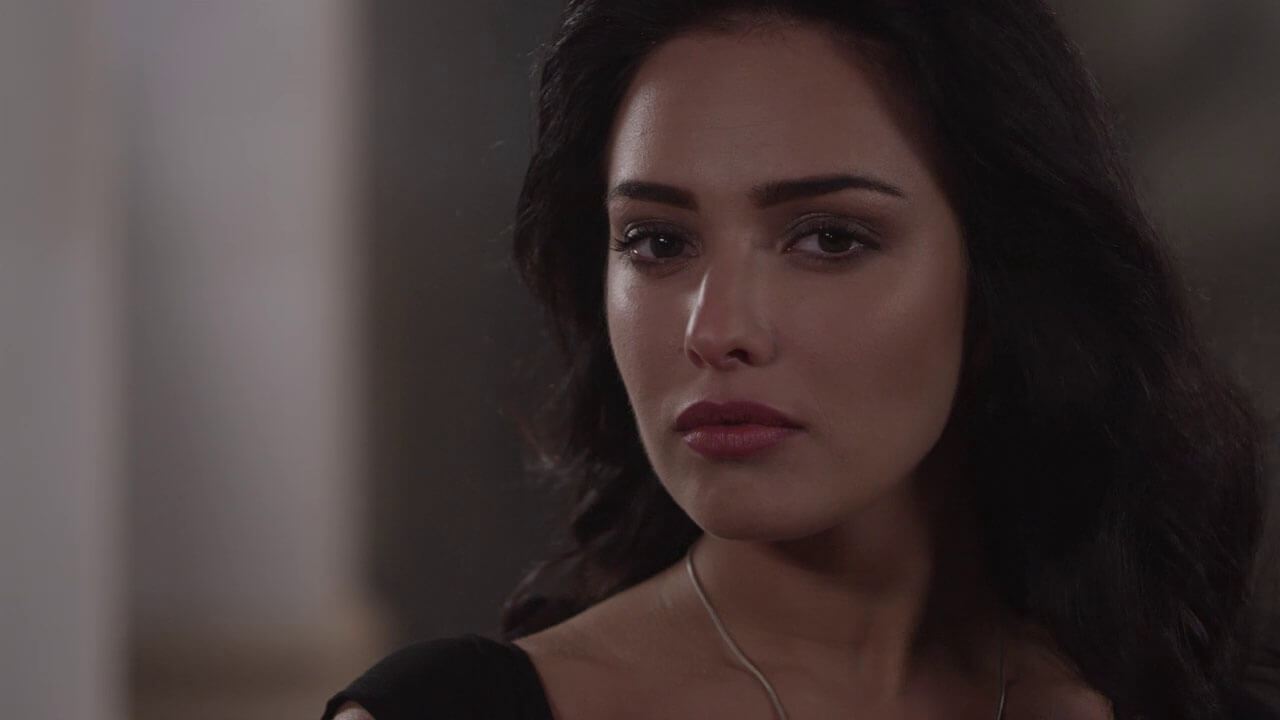 BEFORE
Before color correction, the shot was made in columns with a cinema fan.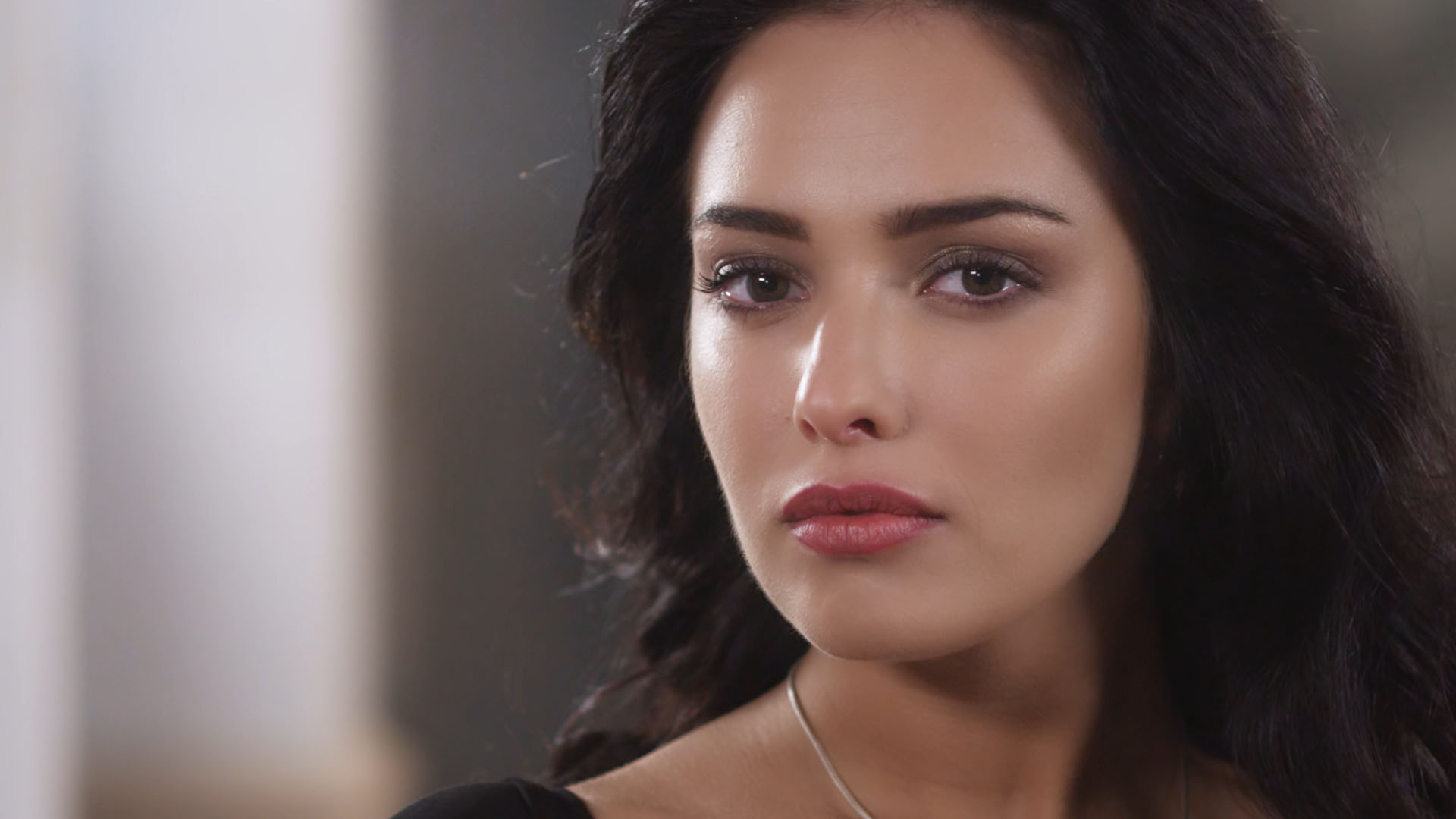 AFTER
After Color correction: we made it more vivid and added more light to this shot.


COLOR CORRECTION AND VIDEO EDETING


We bring the footage to life and add more colors and contrast.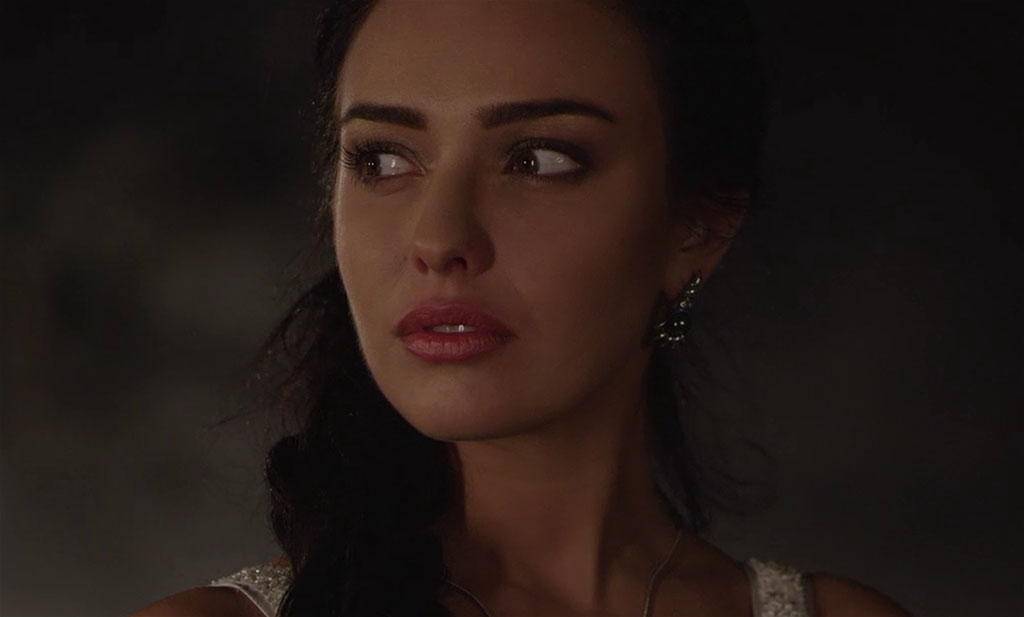 BEFORE
Before color correction of Red Epic raw material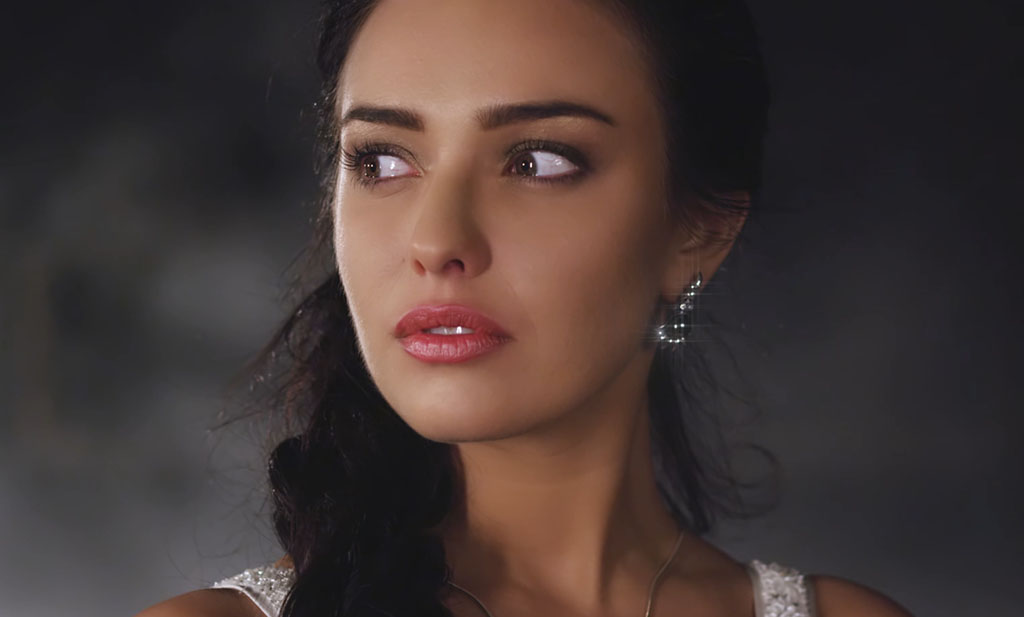 AFTER
After color correction, you can feel the difference and shot becomes more real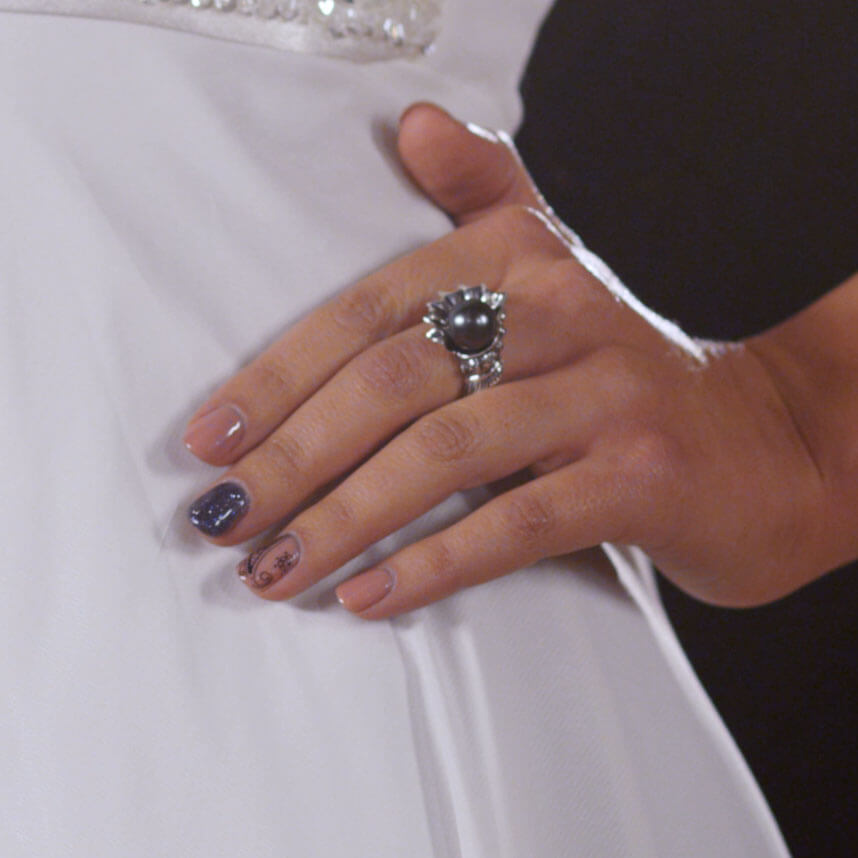 BEFORE
Before removing patterns in the fingernails of the actress.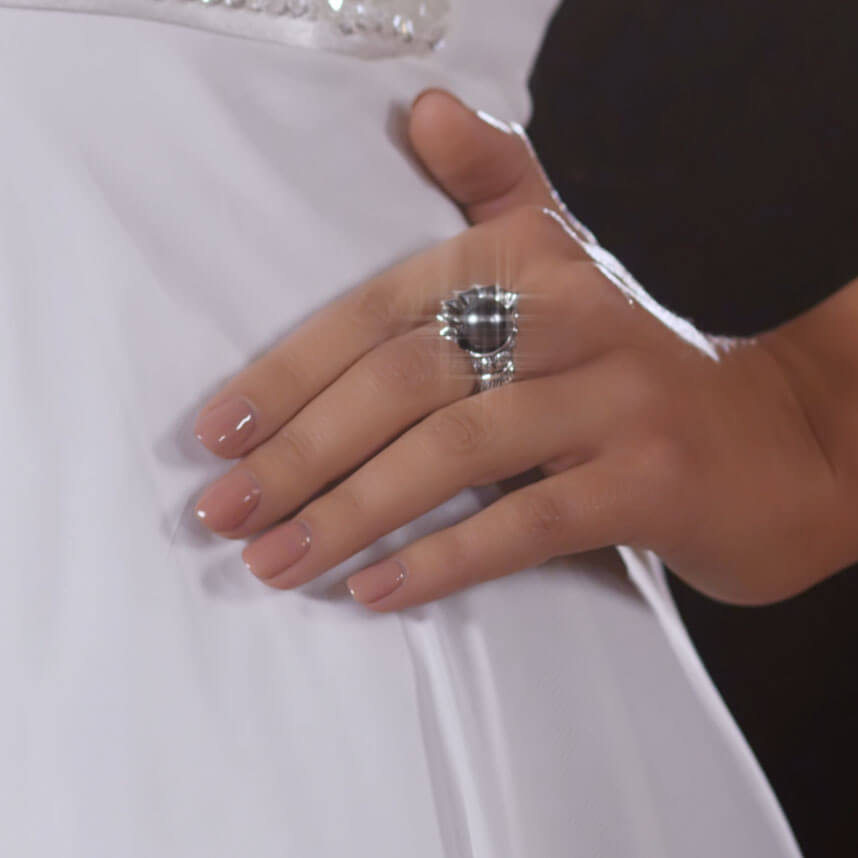 AFTER
After removing patterns in the fingernails of actress.




We add flares to the jewelry for all shots except general shots when the actress is walking. It creates an eye-catching effect; it helps human eyes go to where we want them to look: at the jewelry of Perla De Plata De Mallorca.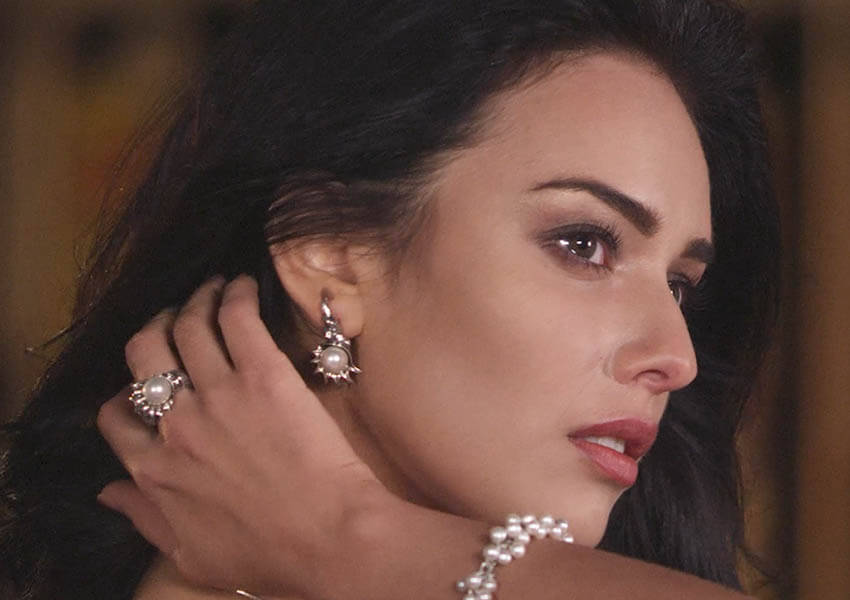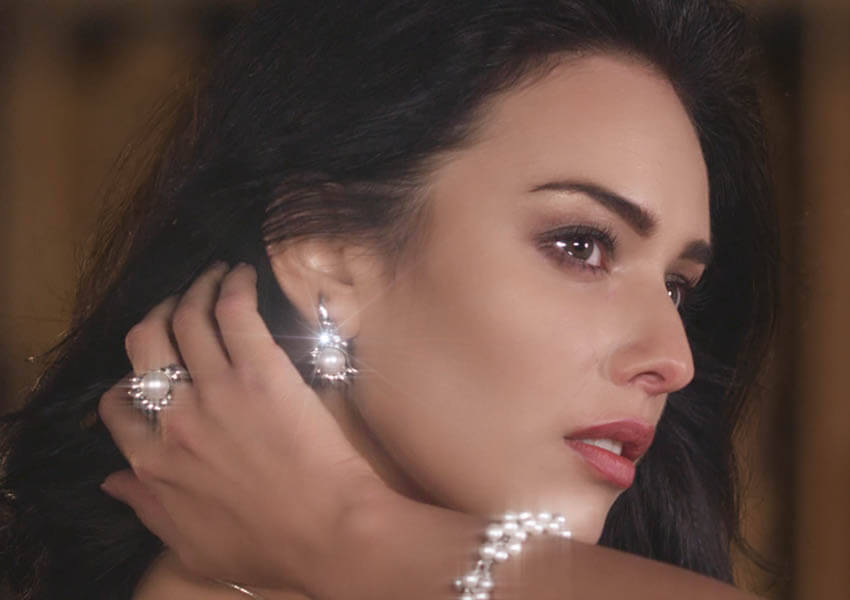 Our next challenge was creating a realistic silver ring with pearls for the screw system presentation in the middle of the video clip. It was huge part of the video, almost 28 seconds. We decided to create and insert 3D model of the ring in the end of the video as well.
Why did we need to do this shoot in CGI? The mechanics of shooting this live would be very complicated and may not give us the desired results. Lenses have physical limitations regarding how clear and sharp they can film, but with CGI we get a clear, rotating shot very easily. We will tell you how we perfected the 3D model of the silver ring step-by-step from the reference photo to the final CGI silver ring with pearls.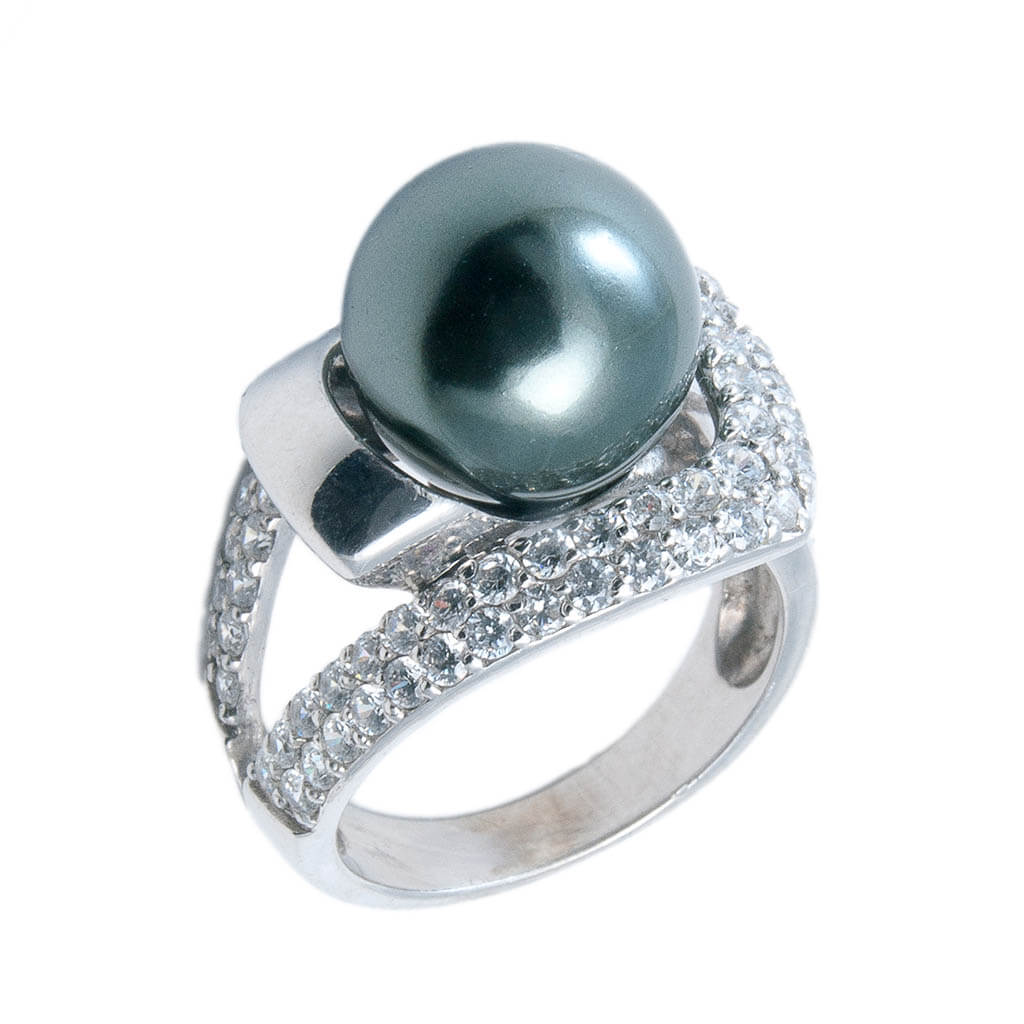 Reference photo of real silver ring from Perla De Plata De Mallorca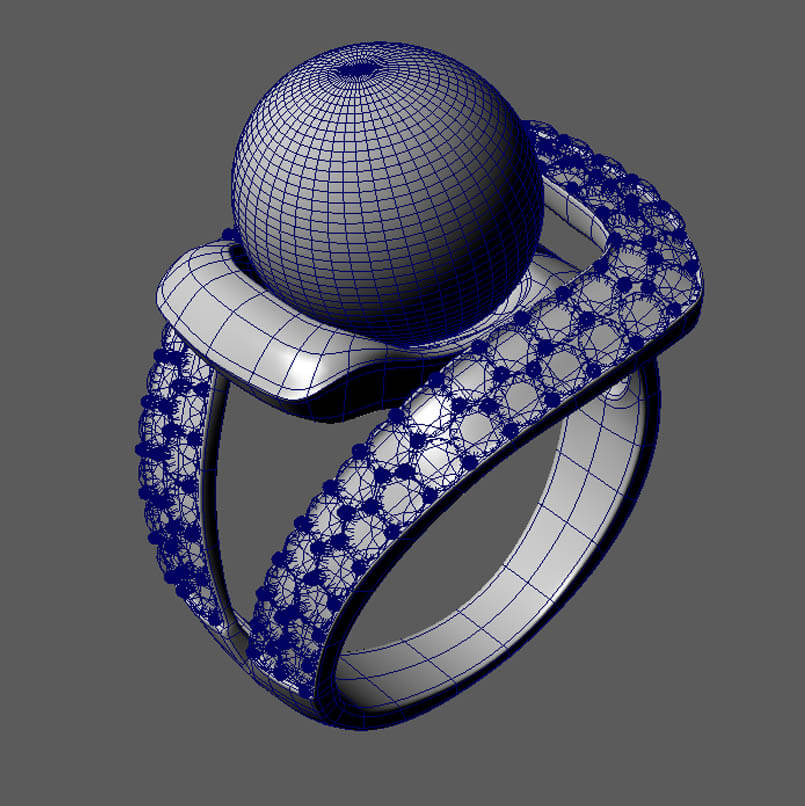 Rough low poly model of the ring.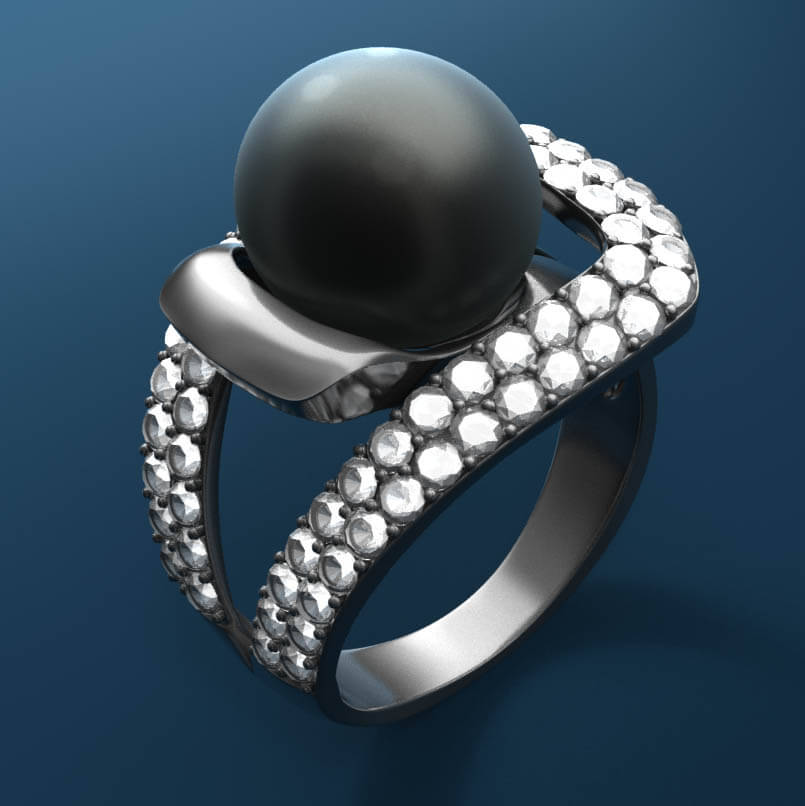 High poly model of the ring with basic textures and shading.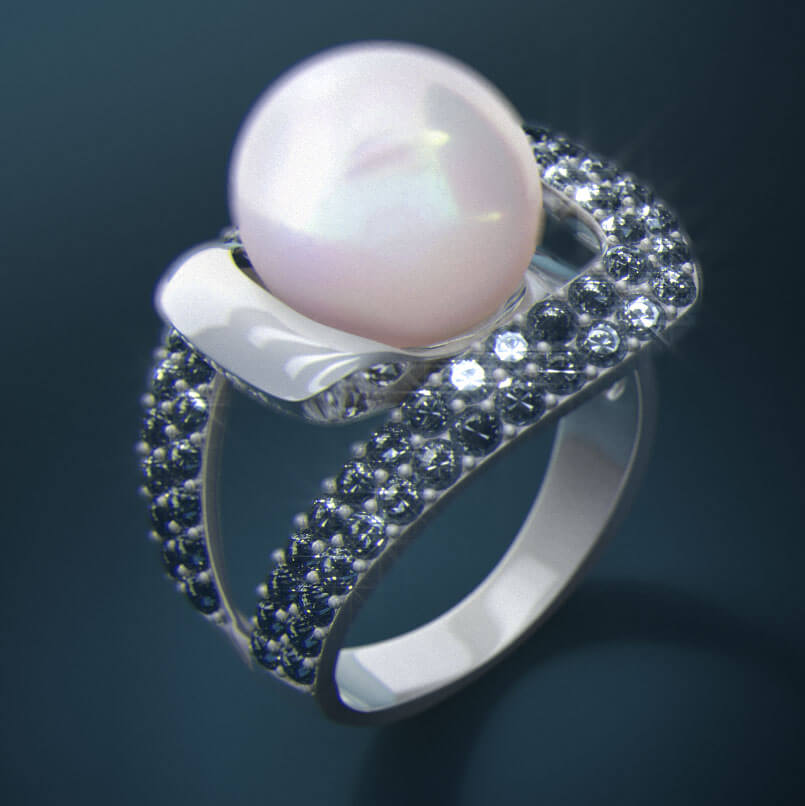 Final render of CGI silver ring with pearl. We put these images into final video.


Finally, as Perla De Plata De Mallorca got the ideal luxury video to attract a flood of new clients and show their innovative principals in the jewelry industry. It can easily be placed at any store, hotel, resort, event, trade show, online promotion, prospect meetings, etc. Also as a result, this video enhances the public image of the company throughout Spain. So, Fantastic Imago can GUARANTEE these RESULTS and more.


THE FINAL DESIGN OF VIDEO


All editing work was done and we inserted clips and the final render footage with 3D rings from render farm.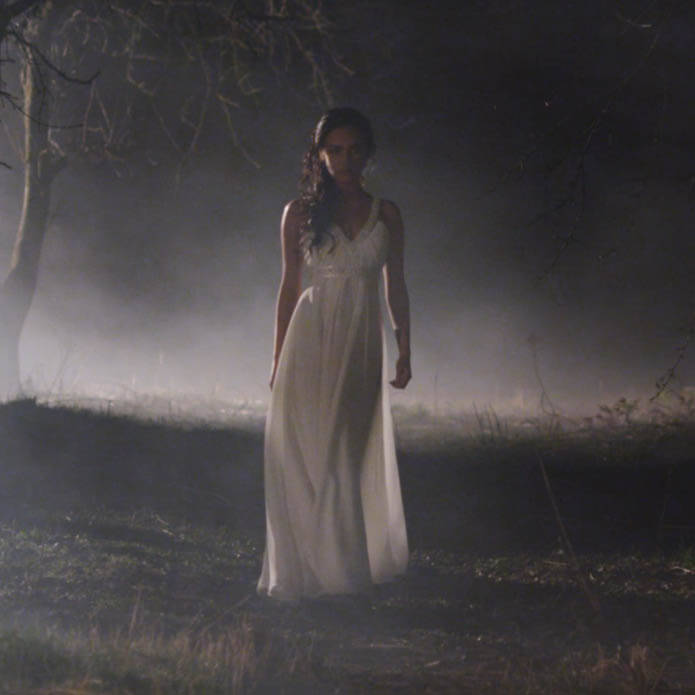 Aleksandr is a brand strategist, storyteller, speaker and he helps shareholders develop brilliant strategies to market their business and grow their brand. His creative vision always include comprehensive and strategic goals of the brand and it allows him increase the leveraging a brand asset.
Ever since he started his career in 2004, Dmitriy has brought passion and unparalleled talent to his craft. A visionary artist, Dmitriy continues to set trends in video advertising and filmmaking all over the world with Fantastic Imago.
Ira communicates ideas through drawing and visual design. She is a solution-oriented creative designer who thrives in challenging situations and enjoys working on detailed projects. She has an Illustrator background in feature animation, commercials, and advertising.
He like creating clean, semantic code and exploring solutions to complex problems. His main competency are designing, coding and testing website based on design direction. In addition, he is digital marketing professional with a passion for results-based marketing. Hankering curiosity for all things technology focused with an adeptness for learning new systems. Creative and flexible thinker who enjoys working with smart and passionate people.
She is a highly diligent and determined storyboard artist, character designer and concept artist. Anastasiya specialized in creating concepts, illustrations and height quality artworks directly used in the commercials with various styles and themes. Read script and interpreted director's notes and thumbnails into working storyboards for a Fantastic Imago Commercial.
Ivan works with different in size and shapes companies to develop branding and marketing strategies that make them stand out and drive sales. A demonstrated leader who develops and executes digital strategy in branding, marketing, communications and multimedia production.
He brings more than 2 years of global sales and executive management experience to Fantastic Imago. Beginning his career in 1999, Dmitriy held various positions in sales and marketing during his 17 years with the VD MAIS, including director, co-owner of MASTAK PLUS, LTD. for Ukraine. He worked with the biggest manufacture and technologies companies in the world like Emerson Electric, Data Device Corporation, Texas Instruments and others.
Representing clients' interests in commercial courts, maintaining economic trials, advising on contracts and copyright law.
He is music composer, audio editor and sound designer specialized in productions for film and television. His specialties: music editorial, music production, songwriting, composition, sound design.
Olga is writer and editor specializing in SEO content, blog posts, legal content, marketing/advertising material, landing pages and education articles on a variety of subjects and within a dental industry.
We work with companies of all shapes and sizes to help them achieve extrordinary results. Here are just a few…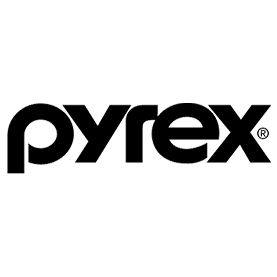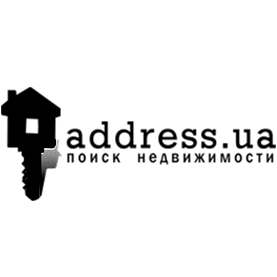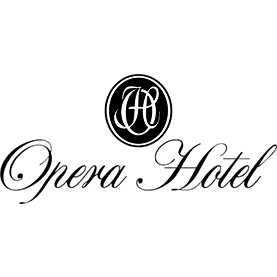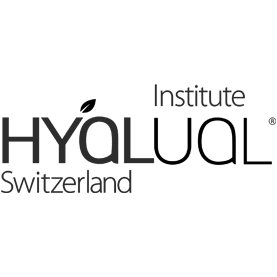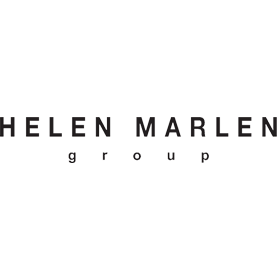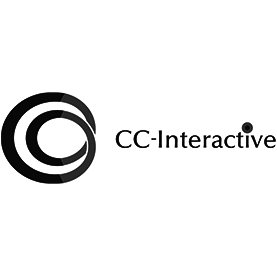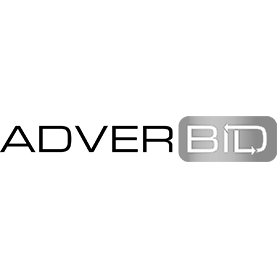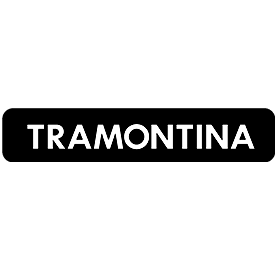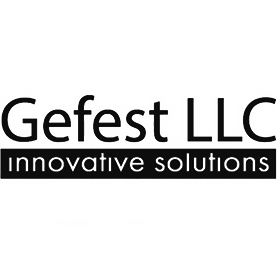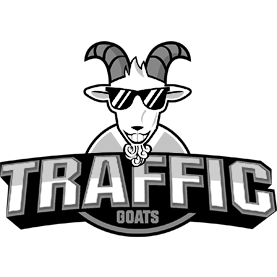 Contact Us
Thank you for your interest. Please complete the form below and a representative will respond as soon as possible. If you'd prefer to speak with somebody directly, please call our sales team at 38.044.384.05.45